2010 UMBC Presidential Faculty & Staff Awards
CNMS faculty and staff recognized.
We are pleased to acknowledge Matthias Gobbert and Ralph Murphy from CNMS were recognized at the 2010 UMBC Presidential Faculty & Staff Awards.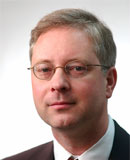 Matthias Gobbert
Associate Professor, Mathematics and Statistics
2010-2011 University System of Maryland Board of Regents' Faculty Award for Excellence in Mentoring
Joining UMBC as an assistant professor in 1997, Matthias Gobbert mentors students, providing them with numerous pathways to success.
Gobbert has a clear vision as to the skills and credentials students need to become successful applied mathematicians. He sets high expectations for written communication and provides opportunities for students to collaborate in research with other faculty members and students. He has mentored both undergraduate and graduate students, along with students from other institutions, and has helped numerous students publish technical reports, conference papers and papers in prestigious peer-reviewed journals.
In 2005, Gobbert co-founded the Center for Interdisciplinary Research and Consulting (CIRC), where he continues to serve as associate director. He co-founded CIRC to support interdisciplinary research, provide a full range of consulting services and provide mathematics and statistics students with consulting experience. Wanting to prepare his students for industry or academia careers, he encourages hands-on applied research and mentors them at all stages of project development. In 2008, Gobbert secured a Faculty Innovation Grant from the Alex. Brown Center for Entrepreneurship to develop a marketing plan for CIRC, hoping to provide students with an even more sustained experience.
As a teacher, Gobbert has a range of subject-matter expertise in applied and industrial mathematics, scientific and parallel computing and numerical analysis. He teaches courses in undergraduate mathematics for non-majors to graduate courses in the applied mathematics program that attract students from across campus. He passionately guides students to become successful practitioners of the mathematical sciences.
An active researcher, Gobbert has a total of 74 publications, including 40 papers involving student co-authors. He has been asked to speak at numerous conferences, and his research has been noted in several journals.
Gobbert earned a B.Sc. from Technical University Darmstadt (Germany) in Mathematics, and an M.N.S. and Ph.D. in Mathematics, both from Arizona State University.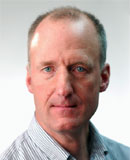 Ralph Murphy
Teaching Laboratory Technician, Biological Sciences
2009-2010 University System of Maryland Board of Regents' Staff Award for Exceptional Contribution to the Institution
Throughout his 28 years of service, Ralph Murphy has been an integral member of the Department of Biological Sciences. His devotion to UMBC has been noted by his consistent diligence, dedication and willingness to help others.
Murphy began his career at UMBC as a student and served as a research laboratory technician for two years before moving to his current position in 1984. He performs daily operations to keep labs running at top capacity, including preparing media, setting up equipment and ordering and preparing chemicals. Annually, Murphy compiles and records judges' results for the Undergraduate Symposium in Chemistry, Biology and Biochemistry, and he oversees the high school UPWARD Bound Summer program in the Biological Sciences.
In addition to his work, Murphy's great pride in the campus distinguishes him as a leader. Each morning, he picks up litter on his way to the office. He's also been known to keep the back of the Biological Sciences building clean throughout the day, separating recyclables and placing them in their proper receptacles.
An alumnus of the biological sciences department, Murphy has a strong connection with students in the program and volunteers to tutor them in their coursework. Occasionally, he will open the labs on Saturdays for additional studying if needed.
Not only does Murphy encourage students in the classroom, he also supports athletics at UMBC. He hasn't missed a regular season women's lacrosse game since 2006 and regularly attends other sporting events on campus.
Murphy earned a B.S. in Biological Sciences from UMBC.