USM Regents honor Dr. Leips for excellence in teaching
December 19, 2014 11:34 AM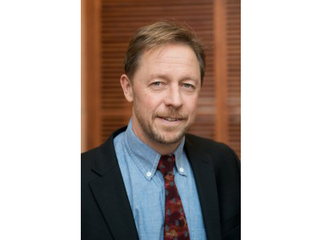 Dr. Jeff Leips honored by USM Regents for excellence in teaching Jeff Leips, Associate Professor in Biological Sciences, was presented with the 2014 University System of Maryland Board of Regents Award for Excellence in Teaching at the Presidential Faculty and Staff Awards Ceremony held in the University Center Ballroom on April 2, 2014.  He was the only UMBC faculty member to receive a prestigious Regents Award this year.
Leips spear-headed the creation of two new minors at UMBC in Quantitative Biology and Biomathematics.  He also co-chairs the Undergraduate Training in Biology and Mathematics (UBM) program.  In addition, Leips is a leader in creating student-centered experiences in undergraduate biology courses. He leads an HHMI grant-sponsored effort to create, implement, and evaluate student-centered modules in introductory biology classes at UMBC that emphasize quantitative skills.
In addition to his teaching responsibilities, Leips leads a research lab focused on quantitative and evolutionary genetics in fruit flies. "I like what I'm doing," [said Leips].  It's part of our job – the teaching part probably affects way more students than anything I do in research."
In that vein, Leips believes UMBC and other universities need to improve teaching training for graduate students and faculty.  If you are a graduate student thinking about a career in academia, "A large fraction of your job is going to be teaching.  And you're doing the students a disservice if you don't treat it seriously," he said.
Content for this article was taken from Sarah L. Hansen's Community News article from April 10, 2014.  To view the article in its entirety, visit http://my.umbc.edu/news/43473.