2015 UMBC Presidential Faculty & Staff Awards
Two CNMS faculty and staff recognized
We are pleased to acknowledge Kathie Seley-Radtke and Dottie Caplan from CNMS were recognized at the 2015 UMBC Presidential Faculty & Staff Awards.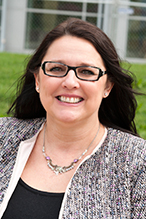 Kathie Seley-Radtke
Professor, Chemistry and Biochemistry
2015–2018 Presidential Research Faculty Award

Kathie Seley-Radtke joined the UMBC faculty in 2003. Internationally known in her field, her research in drug design through chemical synthesis is advancing medicinal chemistry and saving lives.
Seley-Radtke's current projects focus on the design and synthesis of chemotherapeutic agents to treat cancer and infectious diseases such as HIV, Hepatitis C, Ebola and MERS-CoV, as well as biological probes to explore the structure and function of DNA. In the last 10 years, she received six National Institutes of Health (NIH) grants for which she is the sole principle investigator, and received NIH funding for the Chemistry-Biology Interface graduate training program, which she directs. This prestigious program is one of about 24 such NIH-funded programs in the country, and is recognized for its innovation and positive cross-disciplinary training impact.
She is one of only a few dozen U.S. scientists to have served the White House as a Jefferson Science Fellow. As part of her ongoing assignment at the U.S. Department of State, she continues to work closely with the U.S. Embassy in Moscow, as well as leading scientists, ministry officials, and the Russian Academies of Sciences and Medical Sciences on national security and bioweapons, in addition to emerging and reemerging infectious diseases.
Seley-Radke is currently the president of the International Society for Nucleosides, Nucleotides and Nucleic Acids, the leading scientific society for her field. She is also a member of the Award Nomination and Selection Committee for the American Chemical Society's Medicinal Chemistry Division and on the Board of Directors of the International Society of Antiviral Research.
In addition to her research, Seley-Radtke has taken a lead role in developing new approaches to attracting and retaining students from diverse backgrounds for the Ph.D. program. She also led efforts to develop a new summer bridge program for incoming chemistry graduate students, designed to improve problem-solving skills and increase retention rates.
Seley-Radtke received her B.A. from the University of South Florida and Ph.D. from Auburn University.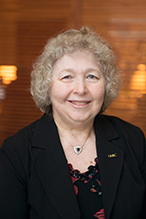 Dottie Caplan
Executive Administrative Assistant, College of Natural and Mathematical Sciences
2014–2015 Karen L. Wensch Endowment Award for Outstanding Non-Exempt Staff
Dottie Caplan began her career at UMBC in 1997 as a secretary in what was then known as the College of Arts and Sciences, and joined the College of Natural and Mathematical Sciences in 2005. Her dedication to UMBC, its students, faculty, and staff is unparalleled, and her coworkers consider her an invaluable asset to the College and the UMBC community.
Caplan handles a large volume of work and consistently provides support to the Dean and CNMS staff that goes above and beyond her responsibilities, for the good of CNMS and the University. Her helpful, supportive manner is evident in her daily communications. Always offering a smile and an optimistic word, Caplan treats internal and external visitors with the same courtesy and kindness.
Her dedication to CNMS is only matched by her commitment to UMBC's mission of service. Caplan is president of the Non-Exempt Staff Senate and is known for persistently advocating for her NEES constituents. She embraces shared governance by serving on a number of university committees, including the Strategic Planning Steering Committee. She is a tireless advocate for the Maryland Charity Campaign (MCC), serving on its cabinet and overseeing the annual Non-Exempt Staff/Professional Staff Senate bake sale fundraiser for MCC. In addition, Caplan serves as a mentor for new students and supports both Commencement and Welcome Week activities.
Over the years, Caplan has also served her local community and received awards for her service at the Violetville School, American Heart Association, department of Recreation and Parks, Baltimore City Public Schools, and other organizations.